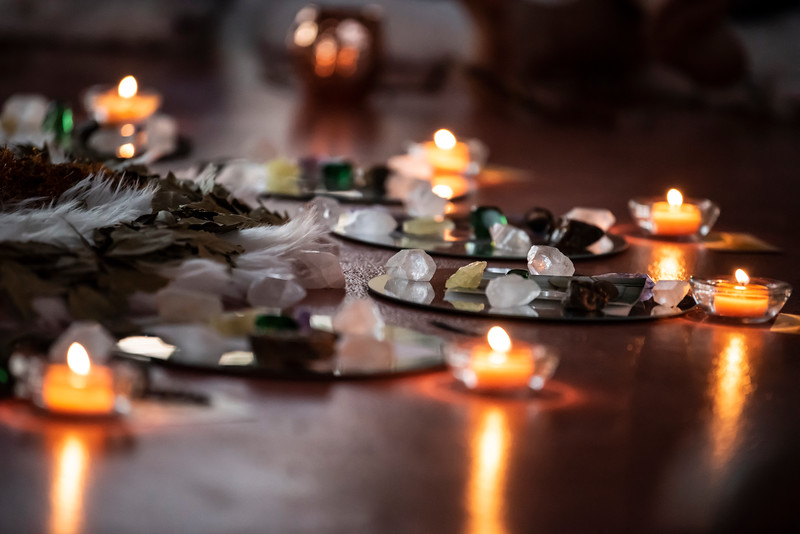 The divine feminine is awakening, as the ancient call within all women to commune with a divine Mother/ Goddess is becoming stronger. We are feeling a calling within to be of service to ourselves and our sisters, to align our lives In a more authentic way. So many of us want to do ceremony or ritual on the new and full moon but we aren't sure where to start or what to do.
The call to be a Priestess is a call to serve humanity and the up-leveling of the collective consciousness. A priestess has a spirit of a healer and a leader. In ancient times you were born into a lineage or birthright of being a priestess. In our modern world many of us know we have had many past lives that in this life time we are here to clear, to make resolve with the what we call the witch wound.
When I was first drawn to the path of the priestess and the ways of the witch it scared and excited me. I read book after book absorbing the women who walked this path before me. I took classes here and there but the only path seemed to be Wicca which is in basic terms the religion of witchcraft. I had no interest in that or any religion or organized belief system. All I did know was that in my heart of hearts I was drawn to be a ceremonial Preistess what society would call a witch. So I embraced this callling although at the time I didnt know a soul to turn to for guidance. As I meandered down this path guided by books and clues from my spirit guides , grandmothers, acsended masters and my bloodline I found there was inner wisdom I had. At the time I had no clue what this really meant. It was an inner knowing of how to do a ceremony or ritual. I would read ways of doing things in witches' handbooks and think, this isn't the way you're supposed to do that and then think.. wait who am I to say how this should be done.
In our modern world there is a deep inner calling for many women, they feel this deep inner wisdom trying to break free. On this path as many do I ended up in yoga learning to fully be in my body, connecting to my higher self. Synchronically, I ended up meeting a local medium and a soul coach from Peru who became my mentors along with an indigenous woman who taught me more than I can share here. All of these mentors and guides taught me to trust the ancient wisdom coming through me. Before this, I floundered around creating more havoc than good. This is part of my passion for sharing this wisdom with other women. I can show you what not to do as well as what to do!
I practiced alone for many years. I laugh thinking back to my husband and kids watching me on a cold Samhain night casting circles and burning letters to the Goddess. The day I recieved a rose as an answer to my call to a divine mother I commited myself to the path of the priestess. My family would laugh and make fun of the salt circles and candles but as time went on friends seen the shift in me and began to turn to me for my witchy wisdom which turned out to be the teachings of the Rose and some ceremonial magick.
That is where I birthed the Priestess path from. From this ancient ceremonial wisdom, I held, along with many things I learned, and deeply respected from the many cultures my mentors came from. Along with the desire to guide women like me who feel like there is more to this life than what we see with our human eyes.
Many of us are strongly intuitive and have this inner knowing that the organized belief systems aren't the way for us, but then what is the way? How do you know what you are doing is authentic and not the appropriation of a culture's practices. When you're just getting started and you feel there is a Priestess in you but you're not sure what that means or how to start that path. This is why I am creating this Mystery School for the modern witchy women, the Preistesses of the twentieth century!
The Goddess is calling us all to heal the wounded feminine, to collective womb healing accross the planet to restore balance. Looking to the Priestesses who walked the path before us as we all share a connection through the red thread of consciousness. Mary Magdelene and the Priestess of the Rose were who called to me first. Have you felt the call to certain Goddesseses, Priestesses, or ascended masters?
If you have, then know that what you are seeking is seeking you, and that draw to these feminine masters is your call to The Path of the Priestess.
The Preistess Path is here to anchor heaven on earth.
If you want to make a difference in this shifting & expanding world we live in, if you want to deepen your healing joureny, refine or learn new skills broadening the scope of what they have seen on social media or read in books about ceremony you are on the right path. I know you're ready to step into the path of the Priestess if you've read this far! So let's do this together!
"I am excited to share some ancient wisdom and all the ways I believe being a modern-day Priestess/Witch is different than who we think she is or they are."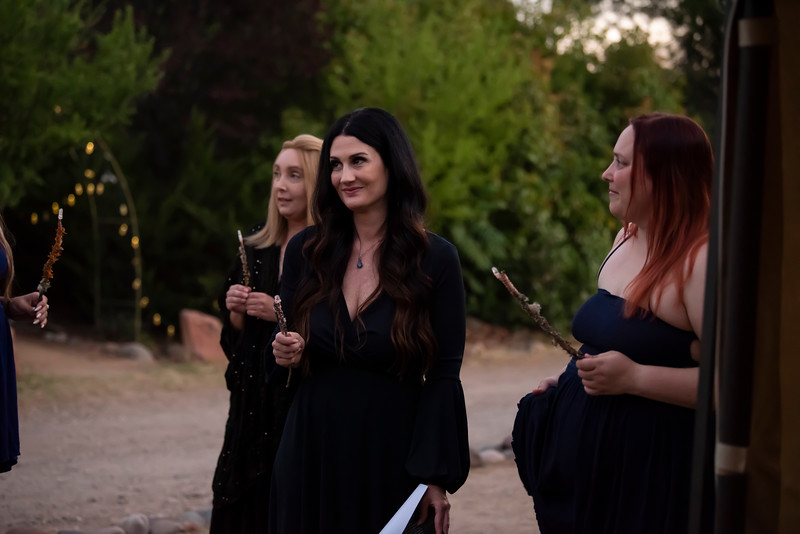 In Priestess Level One -You will have three levels available to you. Each Level will take 12 weeks.
In Level one you will step onto the path of the Healer! You will spend two weeks in each Temple learning, and then the next Temple doors will open for you.
You will learn what it means to be a modern-day priestess! First you will begin healing yourself through the Earth Temple. Next you will enter the Goddess Temple and learn to connect with a Divine Mother, from there we enter the Inner Child Temple for healing, then we move into the Womb Healing Temple, Elemental Magick Temple, and last the Divination & Channeling Temple.
At the end of level one you will recieve The Eight Rays of Light Activation/North Star Blessing.
You will learn a new spin on the wheel of the year, magick for moon phases, work with plants, learn how to stock your magickal cabinet, connect to the goddesses and divine mother, spells, and rituals, make moon water, rituals for the moon phases, altar making, body code mapping, channeling, divination and more!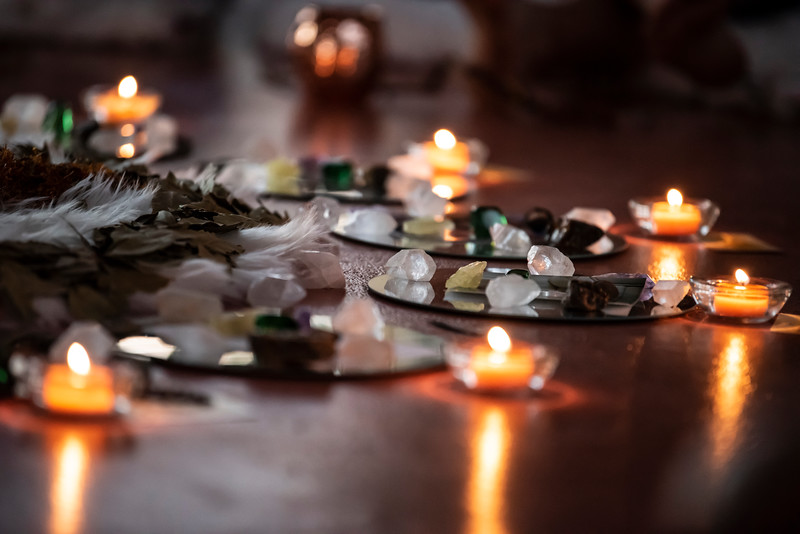 Priestess of the Rose- A new level of authenticity and integrity within level two! You will enter the Pink Rose Temple where Mother Mary is youe guide , The Red Rose Temple where Mary Magdelene will be your guide, and The White Rose Temple where Isis will be your guide! As a bonus you will also begin to learn about the Black Rose guided by Lillith where we will learn more about shadow and ancstral healing.
This level is activation heavy, meaning each Temple will be given three weeks to acomplish the hour long guided meditation/activation and will be followed with ritual and ceremony.
The teachings of the Rose will teake you from being the Healer to the Heaer and Creatrix of your own life!
Each Color of the Rose carries a frequency of teachings and helaings as a gift from the Divine Mother.
These classes will take time to integrate into your every day life and this is why we give you extra time before entering the next Temple.
High Priestess will be a 13-moon program where you will now be the Healer, Creatrix and Teacher. This means for 13 new moons you will be in touch with me. By honoring the thirteen moons you will learn how to honor each season and guide others in this wisdom, learningto hold your own circles and share with others.
You will have a new level of responsibility and authenticity in this course. You will learn to guide others in a ceremony for every spin of the wheel of the year as well as guiding ceremony and ritual for new and full moon. Deepen your knowledge of the priestess's path and all of the rituals & ceremonies. Step into the role of the Healer Priestess, Option to become a Reiki Master.
You will deepen your connection to the Divine Mother, Isis, and Mary Magdalene. Learn to alter consciousness at your will, leading and guiding circles, ceremonies, and rituals. You will learn to share the sacred hoop teachings and give the Eight Rays of Light Activation to your own students.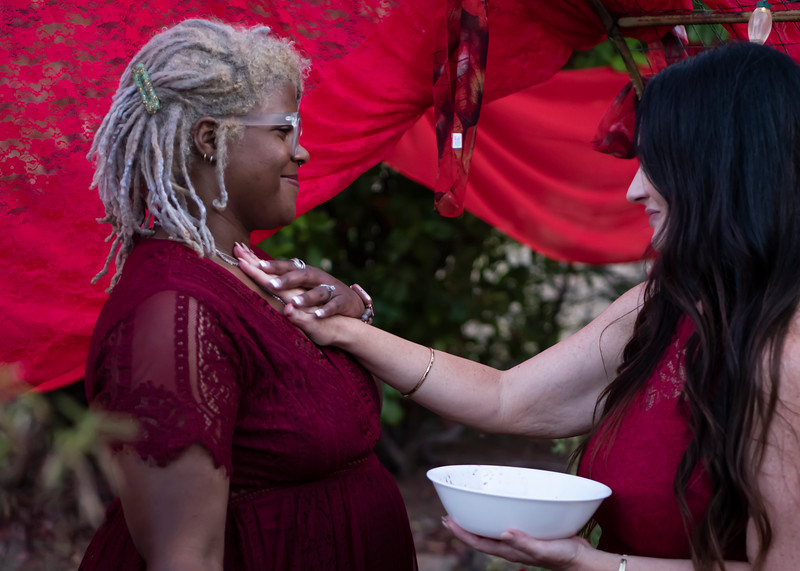 This is about the ancient call within all women to come home to the magic of the natural world and the art of alchemy.
If you've had this feeling or pull to learn how to connect with the moon and all the beautiful plants in nature, or if you know there is more to you than meets the eye.
A power that lies deep within that has been stuck or a little fearful of coming out of you.
Maybe it even feels a little scary to use the word witch as an identity but you want to do the spells and learn to make medicine with plants and you just want to dive deeper into what it means to be a modern-day priestess/witchy woman?
Or.....
Are you already on your magick-making path? 
Do you already work with spells, herbs and plants, moon, sun, and the stars but would like to expand your wisdom, and explore new ideas?


What does it mean to be a priestess or a witch?
​A priestess and a witch can be part of a religious practice like Wicca but the witches we are speaking of are the woman who own themselves.


The mystics, poets, teachers, artists, healers, empaths, and the wild woman, the beauties who spend hours creating medicines with herbs and flowers in the kitchen. 


Those who sit by the bedside of the suffering, in pain, or dying. 


The women you see who stand up and use their voice to fight for the underdog. 


They are the mothers and grandmothers who share the wisdom of our ancestors.
The ceremonialists keeping the ways of old alive as well as the woman who are working to create equality in our modern-day.


Witches and Priestesses are women who know they hold the power of the Goddess in their body and they use it to manifest and heal!
They're the women who don't know they have any power at all!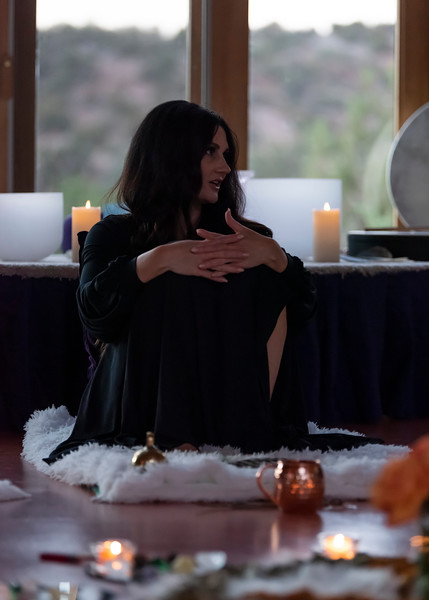 All women are witches...
Most women outwardly fear being looked at as a witch and even use this word in a derogatory context, calling those we don't like a WITCH. Choose your word, witch or preistess, they are one in the same. It is the the holy part of you longing for more.
​
But why is it so bad to be a witch if almost everyone one of gets excited when we watch Practical Magic?
​Because we all know this our true birthright as a woman and it has been repressed for far too long!!
There is not one person who walks the planet that has not been affected by the witch wound. Most are unaware of what the witch wound even is. During our time together we will learn about this wound and steps to take to clear this from our ancestral line as well as our own DNA!
We will explore the wisdom of the Maiden, Mother, Crone, and Goddess! We do this to fully emobdy who we are as women.
You see the modern-day Priestesses are witches. They are the healers, leaders, teachers, spiritual guides, and medicine women of the twenty-first century and age of Aquarius that this planet had long been waiting for! Now is your time and this is the place to reclaim our inherited birthrights we have as women to create, manifest, heal and bless life with the gifts of our loving earth mother, to own our bodies and the magical abilities we hold in our womb space and throat chakra!
Here is a sneak peak at some of the things you will learn in Priestess Path: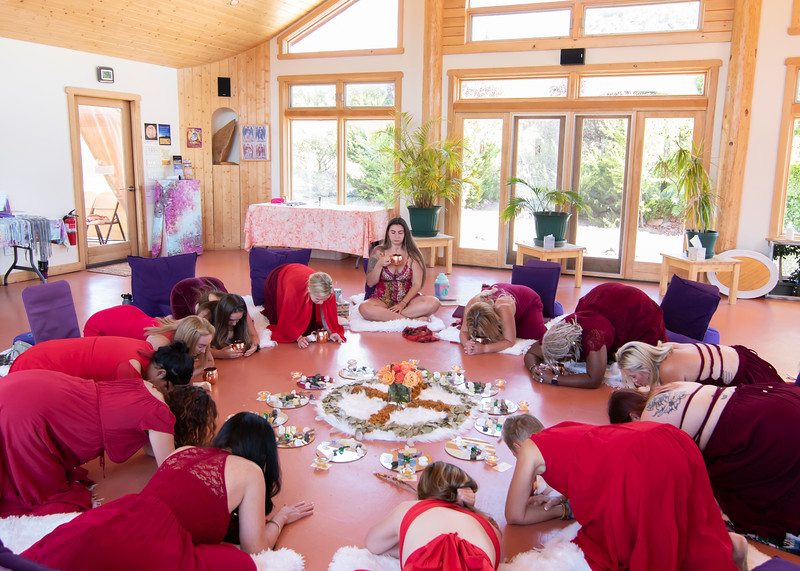 Spells! So many spells!
Ethical & Moral way to cast spells and do ritual and ceremony
Learn Ritual
How to alter consciousness
Body Coding Steps & Activations
Initiations
Connect to the Goddess/Divine Mother
Cosmic Balance
Past life exploration
Stock your magickal medicine cabinet
Learn to heal yourself
Shadow work
Feminine embodiment
Ancestral healing
Find out what type of witch you are
Learn to work with the Rose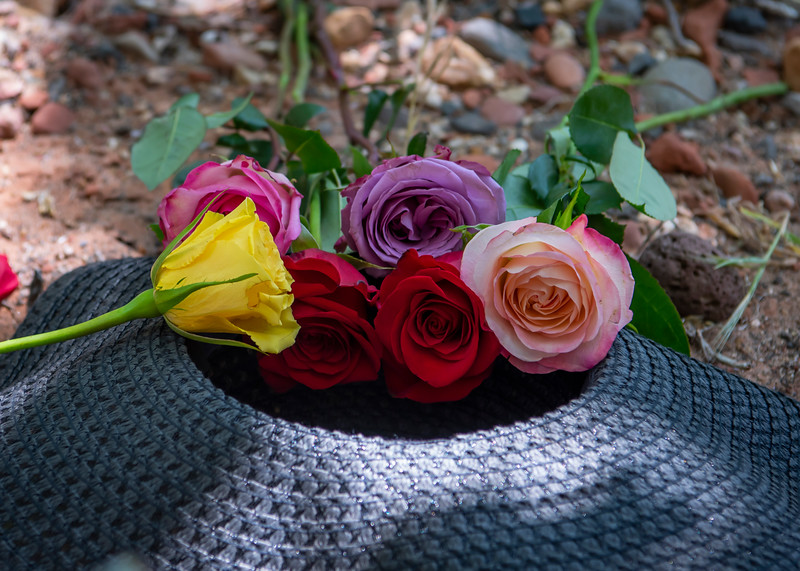 Altar making
Breaking Spells
Womb healing
Channeling
Divination
Creating sacred Space
Energetic alignment
Embodiment
Voice Activations
Circle Casting
Wheel of the Year
Earth & Nature Connection
Lunar Living
Energetic healing techniques
Priestess Path Certificate of Completion
Priestess of the Rose Certificate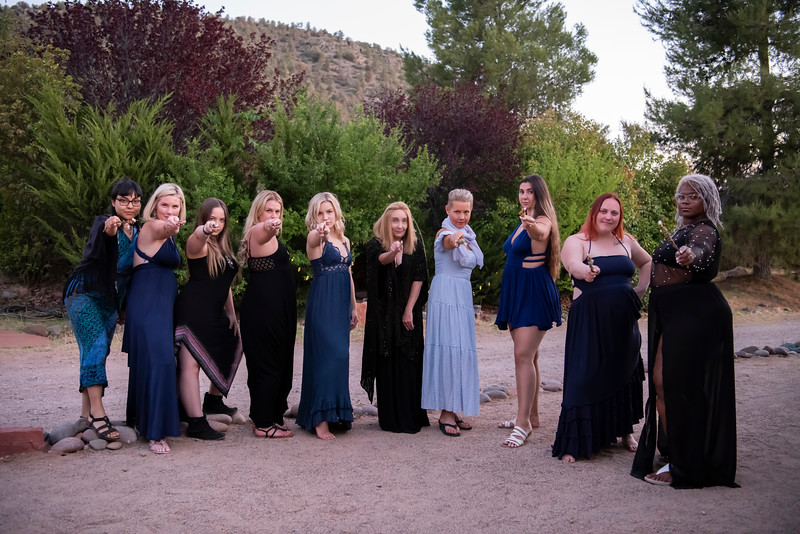 My time spent with Harmony has been a life changing experience. I had the honor of attending one of her retreats in Sedona that will forever impact me on my spiritual journey. You cannot only see, but feel the healing energy Harmony has to give, and the love she has for people in the healing work she does. I am forever grateful for her friendship and mentorship.
-Shannon Campbell


​I Just did the first class today and I literally cried halfway through it because I had forgotten how in touch I can be with my own body. I've been struggling with hating my body for so long and during the practice I could feel my body and soul comforting me as if something in me had been trying to reach me all along. It was such an amazing experience. Harmony's guided mediations are so amazing. I finally made time for myself and its insane how much my body needed this. My whole body feels so much more like home!
- Geena Tabler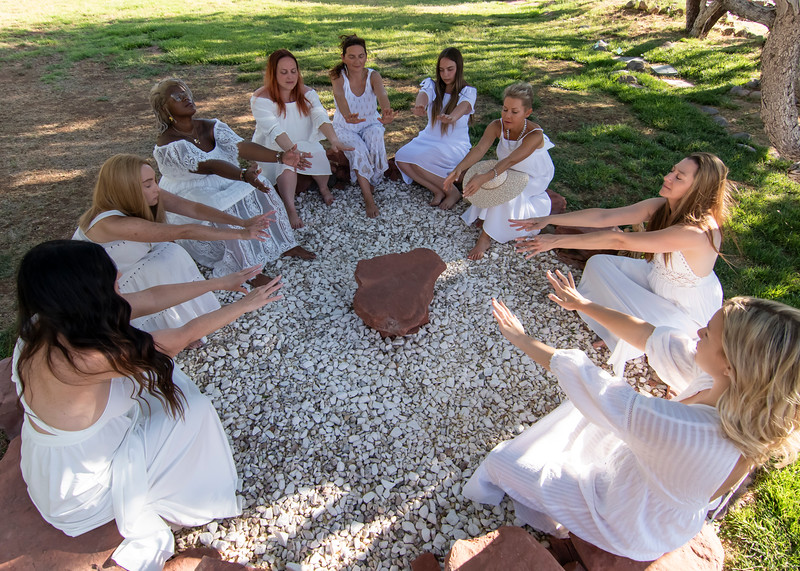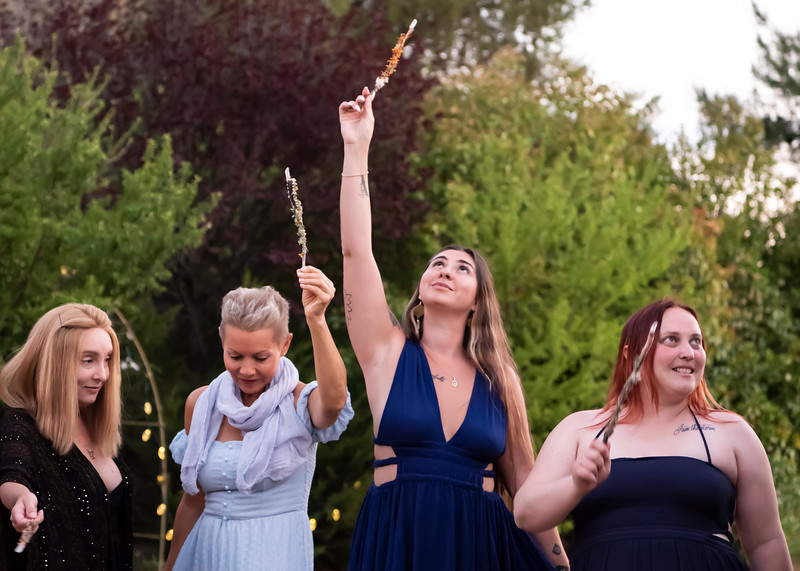 Harmony is a witch with a beautiful soul and powerful transformation magic which she uses to help other women on their journey into owning their own strength and power as a woman; as a witch; as a wild woman; as divine. During retreat Harmony facilitated circles, performed activations, and lead rituals. These activities helped each woman attending release the silent, hidden, painful things that often keep us, as women, from being our 100% authentic self. This sacred space Harmony created and held for us was powerful and created a tight bond between the 13 women attending. My life is forever changed for the better. 
- Jennifer Cunning